Safety Underfoot...
The law requires that floors must not be slippery so they put people's safety at risk (The Workplace Health, Safety and Welfare) Regulations 1992).
Slips and trips consistently account for around 1 in 3 non-fatal major injuries, and for over 1 in 5 over-3-day injuries in workplace areas throughout Great Britain, a total of at least 35 000 injuries per annum (one serious slip accident every 3 minutes). HSE statistics suggest that most of these accidents are slips, most of which occur when floor surfaces are contaminated (water, talc, grease, etc).
By choosing the correct Vinyl Safety Flooring for the relevant application, the potential for accidents caused by slipping can be reduced significantly.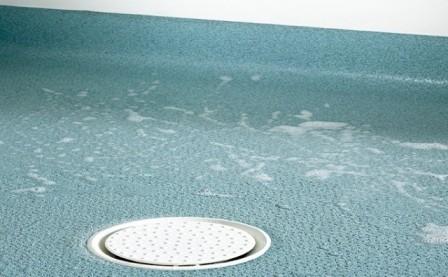 Wetroom Flooring.co.uk Offer unique solutions up to the highest class in barefoot safety performance. Barefoot and wet room areas such as Showers and Washrooms require a dimpled or studded surface sheet vinyl Safety Flooring that is coved up the walls with all seams and joints thermo welded to seal the floor.

Wet Room Flooring Carry large stocks of sheet Safety floorings for immediate fitting or next working day delivery to your door. We also have all accessories including flooring adhesive, capping strips, cove formers and vinyl welding rod. All this and at the best prices on the web!

Wet Room Flooring supply only or supply and install extra slip resistant vinyl Safety Floorings to Shower rooms, Disabled toilets, Commercial and domestic kitchens, Shops, Offices and any area that requires safety underfoot.